Sacred Southern France Tour
I am taking a tour to France in September this year. We will be following the Cathar trail through the stunningly beautiful Languedoc and Midi Pyreneese regions.
Some of the places we will visit are - Rennes le Chateau, Rennes les Bains, Alet les Bains, Ussat les Bains, Montsegur,Gorge de Galamus, the Forrests of Nebias,Carcassonne, Minerve, Mazaret. We then move on to St Maximin laSt Baume and Saintes Maries De La Mere - very important places of Magdalene legend. Saints Maries de la Mere is the capitol of the stunningly beautiful Camargue region of Southern France and the place where Mary Magdalene and her entourage landed in France after the crucifiction of Christ. These are just some of the places we will visit.
These areas are steeped in history and are sacred places of ancient power and Earth energies.
Our accommmodation is an experience in itself. We will be staying in beautiful very old converted convents and Abbeys where possible. The food and wine in thses areas are also exceptional. I have booked the accommodation, the bus and driver as well as an interpreter. There is an itinerary which I can send you on request but I am only taking 8 people so that we can be flexible with where we go. Having such a small group ensures a more intimate experience.I have arranged for a modern day Cathar to take us to some sacred Cathar caves and then for us to have a typical Cathar meal at his place afterwards.I have many treats in store for you. We will be performing some ceremonies at certain places and will be in France for the Eclipse on Sept 13.
I have been guided to take this tour as I believe that many Cathars have reincarnated at this time to heal the wounding of persecution and massacre. As we heal this wounding in ourselves (through guided ceremony) we also help to heal the Earth.Visiting these sites helps us toconnect with lost parts of ourselves and to reclaim our power. Our final four days are spent visiting some truly magical places connected to the Mary Magdalene. Again theseare powerful places so be prepared for a life changing experience in places of great beauty.
I would love you to be a part of this.
With love
Annie
SOUTHERN FRANCE – September 3rd – September 13th
$5000 twin share (plus airfares and spending money)
$1000 single room supplement.
The price may vary with currency fluctuations.
This includes, breakfast each day, entrance fees ,accommodation and bus travel.
You are responsble for your airfares , meals, tips and spending money . You are also responsible for getting to Toulouse and home from Marseille.
Travel insurance is mandatory.
To secure a place requires $1000 deposit.

Download brochure
here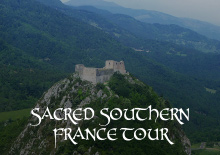 Sacred Southern France Tour
Hightlights of the Andes 2011.
The Energies of Mayan Adventure