Annie McKenzie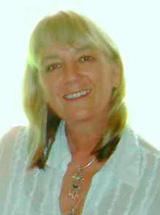 Annie is a spiritual healer/teacher/spiritual tour guide based in Eumundi on the Sunshine Coast of Queensland Australia. Her interest in healing and personal growth developed as a result of her own personal spiritual experiences.
She came understand that our Soul has a yearning for us to align with who we truly are and this realization led her on an adventure of self discovery and personal growth.
During her journey she studied several healing modalities and began to assist others in making sense of their own journey, helping them to connect to their true and best selves. This involves work on all levels – physical, emotional, mental and spiritual.
Her work involves opening people to the absolute magic of life so that they may appreciate and benefit from their own creations. She helps people get in touch with their unique inner truth and knowing and in doing so, find their purpose and passion in life. She assists people to bring more light into their lives and healing takes place as result.
Annie has travelled to many amazing places both in Australia and abroad and was privileged to live in an Aboriginal community on the Gulf in Northern Queensland.
Annie's travels awoke in her a passion and thirst for ancient teachings and knowledge. She connected strongly to the incredible energies of Earth and Spirit at the many Sacred Sites she visited. These journeys connected her with many remarkable Souls and keepers of Ancient wisdom who showed her how we are truly "one". She works closely with the Shamans in each of the countries she visits.
As a result of her life changing experiences Annie was inspired to offer people the opportunity to go on their own personal quest, to awaken to new and expanded views of themselves and the world, to enhance their spirituality and to consciously connect once more to the energy grids of The Earth.
Next year (2011) "Sacred Solar Journeys" lead by Annie, is offering a pilgrimage to the magical Sacred Sites of Peru and Bolivia for the Inti Raymi Festival (welcoming back the sun) at the winter solstice.
Annie will also lead a as a Mayan Discovery tour to Guatemala, Honduras and Mexico. The highlight of this trip will be a special ceremony in the jungle at Palenque for 11:11:11
Annie also conducts activations and personal healing sessions from her home in Eumundi as well as running seminars on spiritual/personal growth and the expansion of consciousness. .
Some of her Seminars are –
"Embracing Life" – how to get the most out of life and manifest what you want.
"Fires of the Heart – Connecting to the Divine."- Teachings of the Ancient Mystery Schools enabling rapid shifts in consciousness.
Foundations of Healing- Part 1.
Annie has made 3 guided meditation CD's in conjunction with musician Terry Oldfield. These CD's are to assist people in their quest for healing and spiritual connection.
1. Opening to Love – a voyage of connection and release
2. Meditation of the Fiery Heart – awakening the Fire of the Heart to Receive the Fire of Spirit
3. Pillar of Light Meditation/Activation – Anchoring Spiritual Fire and Light into your being


Contact details – Annie McKenzie
617- 54428847 or 0402 801 589
Or annie@anniemckenzie.com.au